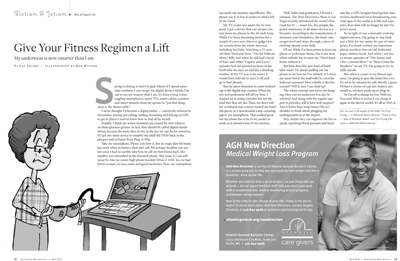 Column
Gold

Delaware Beach Life, "Flotsam & Jetsam" by Fay Jacobs
A delightful laugh-out-loud experience that captures the reader from beginning to end. The best humour is a lot of work, but sounds effortless and this is the best of that genre. Well argued, makes a point but is never preachy. Fay Jacobs has a new fan for life!
Silver

Adirondack Life, "Short Carries: Piece of the Park, Why They Stay, Seasonal Disorder" by Annie Stoltie
Evocative and convincing commentary that entrances a reader into feeling a vested interest in the subject at hand. Even if you know nothing about the park, or were never affected by the flood, you still feel an emotional connection to the writer.
Bronze

Arizona Highways, "Editor's Letter" by Robert Stieve
Interesting and informative, this column is a standing invitation to dig into the rest of the magazine.
Award of Merit
Acadiana Profile, "Personnes" by Will Kalec
A well written and interesting community-building column that highlights people approaching life in interesting ways.
Award of Merit
Maine, Boats, Homes & Harbors, "A Postcard In Time: The Gloriously Stable Flattie Skiff; Going for a Ride; Bravo, Mr. Roosevelt" by Peter H. Spectre
Quirky, but certainly on-message. Love the concept/hook for the column (postcards), and the writer's enthusiasm carries the reader.
Additional Entries
Capital Region Living, "Paging Doctor Gray" by John Gray
Colorado Life, "Peak Pixels" by Joshua Hardin
Louisiana Life, "From the Editor" by Errol Laborde
Maine Boats, Homes & Harbors, "Awanadjo Almanack: Welcome Downeast" by Rob McCall
Mississippi Magazine, "Dish It Out" by Melanie M. Ward
Missouri Life, "No Place Like Home" by Lorry Myers
Mountain Home, "Pet Sounds; Location, Location, Location; The Scent-sational Sounds of the Seasons" by Gayle Morrow
Texas Highways, "Editor's Note" by Lori Moffatt
Texas Highways, "Travel Matters" by Barbara Rodriguez
Yukon, North of Ordinary, "Top 10 Under 25" by Tara McCarthy, Manu Keggenhoff, and Tara McCarthy