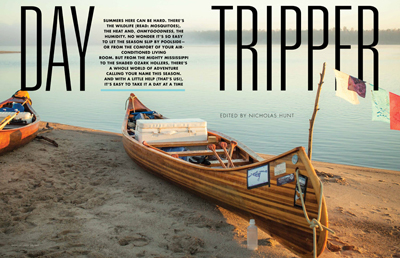 Reader Service Article
Gold

Arkansas Life, "Day Tripper" by Nicholas Hunt
Another strong entry. Love the varied presentation of information: graphs, quizzes, etc. It's all there, interesting, and easy-to-read and easy on the eyes.
Silver

Avenue Calgary, "Haters Guide to Camping" by Shelley Arnusch, Kevin Brooker, and Joanne Elves
As a camping "hater" I totally appreciated this piece and its creativity. Great topic!
Bronze

Cottage Life, "Grill Skills: Her Cred's at Steak" by Jackie Davis, Kim Zagar, and Martin Zibauer
Thorough and well done – great sidebars, excellent packaging.
Award of Merit
Acadiana Profile, "Best Chefs" by Jyl Benson
Nice piece of service writing wrapped into a series of profiles. It made me want to check these places out.
Award of Merit
Texas Highways, "Texas Bucket List" by Melissa Gaskill
Love list articles, and the numerical break down. Very reader-friendly.
Additional Entries
Acadiana Profile, "Best New Restaurants" by Chere Coen
Adirondack Life, "Double Jeopardy" by Daniel Spada and Mick Tarsel
British Columbia Magazine, "B.C.'s Greatest Ski Road Trips" by Ryan Stuart, Arran Yates, Dale Miller, and David Webb
Louisiana Life, "Best of Louisiana" by Chris Jay, Jeanne Frois, Fritz Esker, Lisa LeBlanc, and Claire Salinas
Louisiana Life, "Gamblers, Gators & A-List Music Makers" by Sara Hudson
Texas Highways, "Nine Divine Hill Country Hikes" by Eric W. Pohl