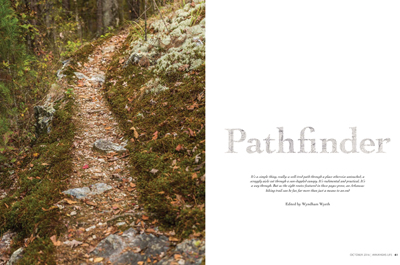 Nature and Environment Feature
Gold

Arkansas Life, "Pathfinder" by Wyndham Wyeth, Ragan Sutterfield, Paul Chisholm, Jordan P. Hickey, Scotty Lewis, Paul McDonnald, and Heather Steadham.
Outstanding collection paints a broad picture. Very engaging.
Silver

Arizona Highways, "Let Them Bee" by Terry Greene Sterling
Excellent! A compelling investigation of apiculture.
Bronze

Cottage Life, "Forces at Play" by Catherine Collins
This is great science writing!
Award of Merit

British Columbia Magazine, "An Old Growth Battlefield " by Hans Tammemagi, TJ Watt, Arran Yates, Dale Miller, and David Webb
Excellent reporting — then and now context. Outstanding.
Additional Entries
Adirondack Life, "Vanishing Acts" by Elizabeth Folwell
Alabama Magazine, "Preserving a Miracle" by Elizabeth Yontz
Alabama Magazine, "Dismals Canyon" by Madison A. Jinks
Arizona Highways, "It's a Hard Rain" by Terry Tempest Williams and Brooke Williams
Louisiana Life, "Bayou Hopping" by Charles Paxton
Maine Boats, Homes & Harbors, "The Secret Life of Eels" by Catherine Schmitt
Maine Boats, Homes & Harbors, "Unearthly Floating Objects" by Nicholas R. Record
Mississippi Magazine, "The Long View" by Boyce Upholt
Mississippi Magazine, "Reef Recovery" by Julian Brunt
Mountain Home, "In Nessmuk's Wake" by Brendan O'Meara
Saltscapes, "Can we save our salmon?" by Deborah Carr
Saltscapes, "The delights of country living" by Pam Hickman
Texas Highways, "The Magnificent Seven" by Melissa Gaskill
Texas Highways, "El Paso Naturally" by E. Dan Klepper