Magazine Photographer of the Year 30,000 or more circulation
Gold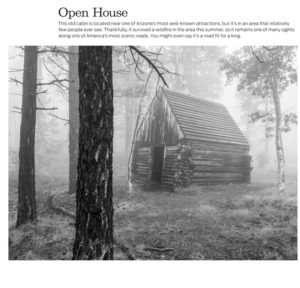 Arizona Highways, Adam Schallau
Amazing photographs complimented with excellent design and type. The atmosphere being created with these landscapes is powerful, eerie, and exciting.
Silver

Texas Highways, E. Dan Klepper
Love this work, great shots complimented with clean design. The "Lightscapes" spread is fantastic!
Bronze

Arkansas Life, Arshia Khan
Awesome work, great environments and warm, genuine portraits. Looking through this series made me hungry.
Bronze

Louisiana Life, Danley Romero
The product/food shots are very nice.
Additional Entries
Arizona Highways, Eirini Pajak
Avenue, Jared Sych
Down East, Ben Williamson
Mississippi Magazine, Rory Doyle
New Mexico Magazine, Jen Judge
Texas Highways, Kenny Braun