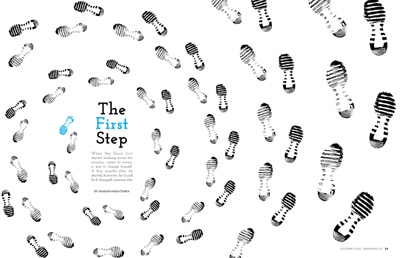 Profiles
Gold

Arkansas Life, "The First Steps" by Mariam Makatsaria
What a compelling story. How these two people connected while on completely different paths was so interesting. I was incredibly moved by Cameron's tragedy while simultaneously invested in and delighted by Ben's crazy adventure. Makatsaria is an accomplished storyteller. The mix of everyday minutia and larger-than-life grief along with her imaginative writing make this profile unique and memorable.
Silver

Avenue Calgary, "The Fight of His Life" by Omar Mouallem
Mouallem's The Fight of his Life is a skillfully written profile, well researched and imaginatively depicted. I found myself completely drawn into this wrestler's story. This profile has everything one looks for in a compelling piece of writing: conflict, love, family strife, charisma, pain, heart, turmoil, wisdom, humanity. What a story; what a life. I was hooked and I couldn't stop reading.
Bronze

New Mexico Magazine, "Old Man River" by John Muller, Stefan Wachs, Edie Dillman, and Dave Herndon
Well, to me, this is the profile to beat! For a great profile to work the subject must be multi-sided, Streit, is difficult, sour at times and the writer brings pathos to his tale. It takes us to a place, the NM wilderness, we watch a man at work, the writer is our eyes and ears, and his folly (over the lost fish) is our folly, we would have done that. Awesome writing, a formidable feat to beat!
Award of Merit
Arizona Highways, "Out of the Ordinary" by Matt Jaffe
Now this is a profile! The subject is unusual and his life story perfectly suited to the magazine's readership. The story has a nice opening, and the writer spends time with the subject and takes us inside his home and travels, and his backstory was brought to life nicely.
Award of Merit
Kansas!, "Young Native Leaders" by Lori Hasselman
I loved this. This is really my kind of feature. Culturally sensitive, inspiring without sentimentality, and much needed. It speaks to my liberal viewpoint, and I love the end bit that reminds non-natives how to behave and appreciate a culture different from the white, Christian norm.
Award of Merit
Texas Highways, "Extraordinary Texans" by Clayton Maxwell
Another strong group profile piece, and while the layout and writing is more traditional, it still works well. I enjoyed the people profiled.
Award of Merit
Yukon, North of Ordinary, "Wayne Merry: Finding the Essence of Adventure of El Capitan" by Kate Harris, Cathie Archbould, Manu Keggenhoff, and Tara McCarthy
I really liked the details the writer included in a short feature. It captured the scary and at the time ground-breaking climb, and I especially loved that it included the stunned reaction from the students. It was both a strong profile and a fly on the wall piece, I liked that combination, and that feels fresh in this competition.
Additional Entries
Acadiana Profile, "Portraits on All Fours" by Will Kalec
Acadiana Profile, "(Not) For the Birds" by Will Kalec
Adirondack Life, "The Saranac Experiment" by Joe Connelly
Delaware Beach Life, "From Rylie's Law to Rylie's Smile" by Jessica Gordon
Maine Boats, Homes & Harbors, "Under the Hood" by Ted Hugger
Maine Boats, Homes & Harbors, "David Driskell At Home in Maine" by Carl Little
Mississippi Magazine, "The Duke of Hollywood Costumes" by Sharon Morris
Mississippi Magazine, "Music Man" by Amy Reid Felder
Saltscapes, "Making the chips fly" by Cary Rideout
Texas Highways, "Piece of My Heart" by Michael Corcoran