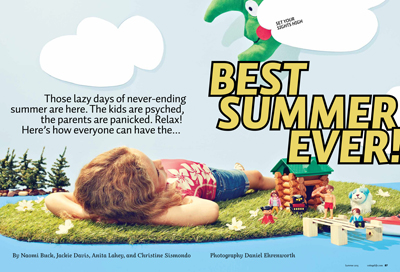 Reader Service Article
Gold

Cottage Life, "Best Summer Ever" by Naomi Buck, Jackie Davis, Anita Lahey and Christine Sismondo, Summer 2015
Love this well written and inviting piece. It addresses parents' summer nightmare: "I'm bored, there's nothing to do"!
Silver

Adirondack Life, "Small Feats" by Lisa Plumley Mintz, July/August 2015
This one is good, encouraging and optimistic – you really *can* hike with your kids.
Bronze

Arkansas Life, "The Natural State of Parks by Nicholas Hunt, October 2015" by Roy McGregor, Early Summer 2015
Very nice and comprehensive with a lovely tone.
Bronze

Arizona Highways, "Weekend Getaways" by Robert Stieve, Kelly Vaughn, Noah Austin, January 2015
A nicely done piece, with a little bit of everything.
Award of Merit

Missouri Life, "Festival Frenzy" by Jonas Weir, April 2015
What makes this shine is that editors allotted space for detailed descriptions and even the history of each event and highlighted with examples what makes each one unique.
Award of Merit

Louisiana Life, "Beyond the Ballot " by Jeremy Alford, September/October 2015
This is a comprehensive, well thought out piece by someone who knows Louisiana politics.
Award of Merit

Texas Highways, "Lakes, Sweet Lakes" by Dan Oko, July 2015
Nicely done.
Additional Entries
Acadiana Profile, "6 Sporting Spots" by Lisa LeBlanc-Berry, December 2015/January 2016
Arizona Highways, "On the Road Again" by Noah Austin, May 2015
Lake Superior Magazine, "Big Lake Bike Heaven" by Phil Bencomo, April/May 2015
Louisiana Life, "LSU Tailgating" by Mathew D. Sanders, July/August 2015
Saltscapes, "Showering alfresco" by David Lindsay and Tom Ross, July/August 2015
Texas Highways, "Hidden Canyons of the Big Bend" by Laurence Parent, February 2015