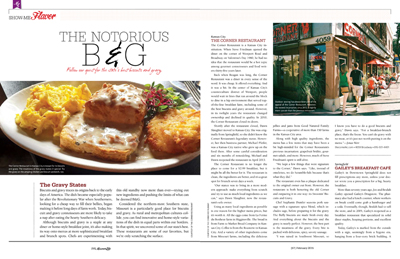 Hed & Dek
Gold

Missouri Life, "The Notorious B&G" by Jonas Weir, February 2015
Yes! This is inspired and I can't believe no one has ever done this header before with reference to biscuits and gravy. Simply wonderful!
Silver

Arizona Highways, "She Knows Dam Well" by Kathy Montgomery, March 2015
This one made me chuckle. To me, that's a big plus when it comes to heds and deks!
Bronze

Texas Highways, "Silo House Rules-Casual and Classy at the Chicken Farm" by Jane Wu, July 2015
A solid and straightforward Hed and Dek. It fits and has charm.
Additional Entries
Arizona Highways, "For Heaven's Sake" by Matt Jaffe, May 2015
Cottage Life, "Beauty is a Beast" by Liann Bobechko, Early Summer 2015
Texas Highways, "Pineapple Express-A Fruit Cup on Steroids in Laredo" by Lori Moffatt, April 2015