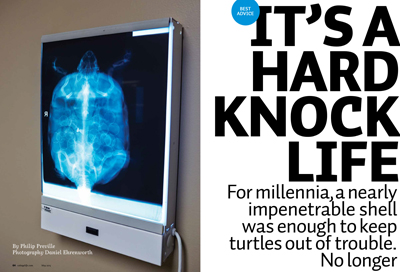 Nature and Environment Feature
Gold

Cottage Life, "It's a Hard Knock Life" by Philip Preville, May 2015
Super engaging writing… I was hooked right away!
 Silver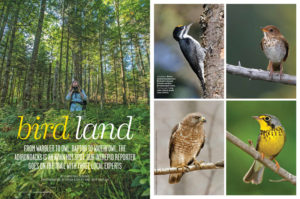 Adirondack Life, "Bird Land" by Christine Jerome, Annual Guide to the Great Outdoors 2015
I love the wit and humor here, right from the opening line. The writing is lively and kept my interest.
Bronze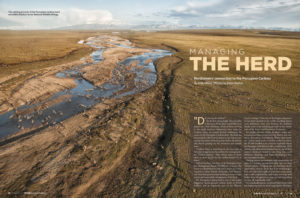 Yukon, North of Ordinary, "Managing the Herd" by Kelly Milner, Fall 2015
Interesting story focused around an engaging community moment.
Award of Merit
Arizona Highways, "Ba'cho" by Annette McGivney, August 2015
Strong reporting and anecdotes, and a timely, even urgent, issue make this a compelling read.
Award of Merit
Lake Superior Magazine, "Last of the Gray Ghosts" by Cheryl Lyn Dybas, October/November 2015
An excellent and important piece deserving recognition.
Additional Entries
Arizona Highways, "Mysterious Little Birds" by Charles Bowden, January 2015
British Columbia Magazine, "The Big Melt" by Andrew Findlay, Winter 2015
Delaware Beach Life, "A Sound Strategy" by Laura Dattaro, July 2015
Kansas!, "Homegrown" by Amy Bickel, Fall 2015
Louisiana Life, "The Bear is Back" by Dr. James G. Dickson, May/June 2015
Louisiana Life, "Springtime in Kisatchie" by Paul F. Stahls Jr., March/April 2015
Maine Boats, Homes & Harbors, "Mysterious Predators" by Ret Talbot, Issue 136 Boat Show 2015
Maine Boats, Homes & Harbors, "Yea Water, Yea Happy" by Teresa L. Carey, Issue 133 February/March 2015
Mississippi Magazine, "A Wild Shrimp Chase" by Boyce Upholt, May/June 2015
Saltscapes, "Eureka Moment for Nature Trust" by Katharine Mott, January/February 2015
Texas Highways, "Pine Curtain of the Past" by Matt Joyce, January 2015
Texas Highways, "Reptilian Grace" by Melissa Gaskill, June 2015
Wyoming Wildlife, "Skipjack Express" by Jeff Obrecht, August 2015