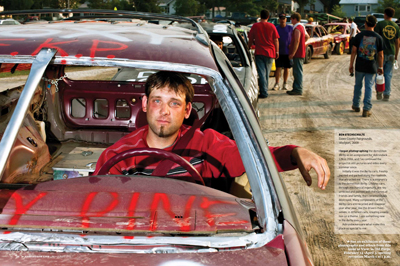 Portrait Photo
Gold

Adirondack Life, "Demolition Derby" by Ben Stechschulte, March/April 2015
Within this category, I find this portrait to be the most dynamic and engaging.
Silver
Arizona Highways, "Table of Contents" by John Sherman, August 2015
Exquisite photo! The detail in the feathers is incredible.
Bronze

Texas Highways, "Trooper James Shotwell, 9th and 10th Horse Cavalry Association, Buffalo Soldiers" by James Fraher, February 2015
The expression on his face and particularly his eyes epitomizes trust and perfectly illustrates the story.
Award of Merit

The Iowan, "Iowan Icon: Bob Dorr" by Kathryn Gamble, July/Aug 2015
Additional Entries
Acadiana Profile, "Common Link: Dr. Bob Carriker" by Danley Romero, April/May 2015
Acadiana Profile, "Friday Night Lights in Acadiana: Nick Saltaformaggio" by Danley Romero, October/November 2015
Arizona Highways, "Their Souls Blend in a Soft Whisper" by Scott Baxter, March 2015
Cottage Life, "Lake Effect" by Edward Pond, Early Summer 2015
Kansas!, "Passion for Pie" by Jason Dailey, Spring 2015
Louisiana Life, "Great Louisiana Chef: James Clesi" by Danley Romero, March/April 2015
Louisiana Life, "A Louisiana Life: Dr. Quincy Hilliard" by Danley Romero, March/April 2015
Maine Boats, Homes & Harbors, "Ties That Bind" by Bob Bukaty, Issue 133 February/March 2015
Texas Highways, "The Extraordinary Mikaila Ulmer, Extraordinary Texans" by Will van Overbeek, September 2015