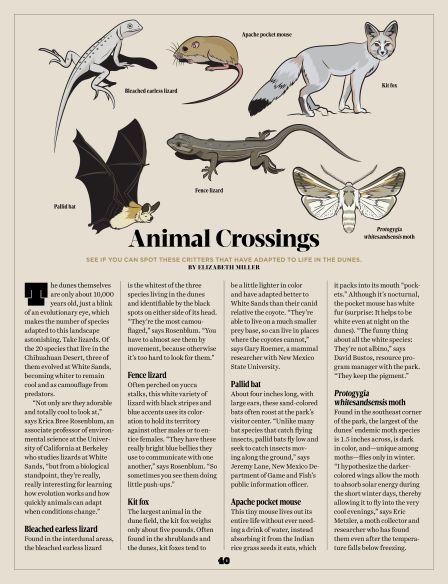 Travel Package 2021
Gold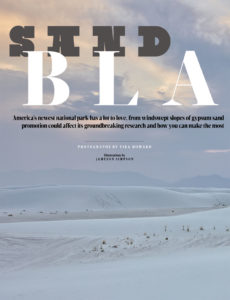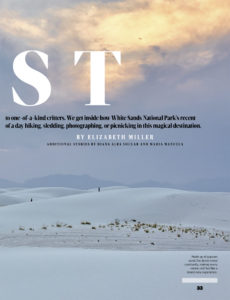 New Mexico Magazine, "Sand Blast" by Elizabeth Miller, Diana Alba Soular, Maria Manuela, Tira Howard, Jameson Simpson, John McCauley, Steve Gleydura, and Kate Nelson
This was such a stellar mix of eye-popping photography and service journalism. It feels just as relevant for readers who are planning a trip to this new national monument as for those who want to be transported there just by reading about it.
 Silver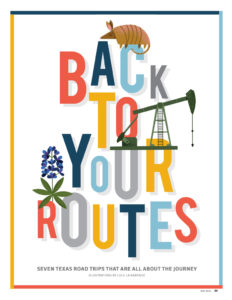 Texas Highways, "Back to Your Routes" by Michael Corcoran, E. Dan Klepper, Clayton Maxwell, June Naylor, Joe Nick Patoski, Kenny Braun, Tom McCarthy Jr., Nathan Lindstrom, Justin Rex, Lulu La Nantaise, Mark Mahorsky, Ashley Burch, Chris Linnen, Emily Stone, Michael Hoinski, Matt Joyce, Kimya Kavehkar, and Julia Jones
Researching your travel trip is half the fun, and this comprehensive and clever guide through the more hidden routes of Texas has something for every type of adventurer. It also gives the reader the impression that the authors are experts who've done the mileage more than once — not just some yahoos who've cherry-picked some Wikipedia entries. To read it is to get a taste (and a hunger) for actually being there.
 Bronze

Arizona Highways, "The Great Escapes" by Lisa Altomare, Jeff Kida, and Robert Stieve
The Great Escapes feels like being invited into the intimate conversations of great storytellers and explorers who have seen almost everything Arizona and the west have to offer. Framed during COVID, it captures a moment and reminds us that time and nature are two things we need to take special care of.