Shrimp and Poblano Bisque – Delaware Beach Life and the Wheelhouse!

Delaware Beach Life is the only glossy full-color magazine based in Delaware's coastal area, and the only one focused on the area's unique surroundings, issues and lifestyle. It is a regional lifestyle magazine, one that defines the culture for those who live it every day — and for those who wish they could. It is independently and locally owned. Eight issues are published each year, from April through the Winter.
For more Delaware Beach Life inspired recipes click here!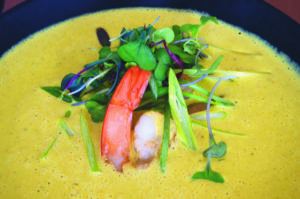 SHRIMP AND POBLANO BISQUE
(Serves 4 as a meal, 6 as an appetizer) 
2 tablespoons of extra virgin olive oil
½ cup of onion, chopped
2 teaspoons of garlic, minced
¼ cup of celery, diced
3-4 poblano peppers, seeded and roasted
2 teaspoons of Worcestershire sauce
1 teaspoon of adobo seasoning 
½ teaspoon of paprika
½-1 teaspoon of white pepper
2-2½ cups of chicken stock (adjust to desired thickness)
1 cup of heavy cream
2-3 tablespoons of butter, plus additional for shrimp
1 tablespoon of tomato paste
Salt to taste
¼-½ teaspoon of cayenne pepper (optional)
2-3 pounds of shrimp, peeled and deveined
½ cup of clam juice
STEP 1 Add olive oil to a medium-size saucepan over medium-high heat. Sauté onion, garlic, celery and roasted poblano peppers. Cook for about four to five minutes.
 STEP 2 Stir in the Worcestershire, adobo, paprika and white pepper. Cook for about a minute.
STEP 3 Add the chicken stock. Simmer for eight to 10 minutes.
STEP 4 Add the cream and butter and cook until the butter melts. Remove from the stove. Stir in the tomato paste.
STEP 5 Puree the mix in a blender in batches to prevent pressure from building. (Hold the lid down tightly.) Or use a stick blender and mix in the pot. Season with salt and cayenne pepper to taste.
STEP 6 Place another saucepan over medium-high heat. Add about a tablespoon of butter and sauté the shrimp. Lightly season with adobo. Cook for up to six minutes or until shrimp are cooked through. Remove the shrimp.
 STEP 7 Deglaze the pan with clam juice and add the bits and liquid to the blended soup.
 STEP 8 Pour the soup into bowls and divide up the shrimp. Garnish with scallions or microgreens. 
Special THANKS to Executive Chef Dave Sauers
and the Wheelhouse Restaurant in Lewes, Delaware for sharing the recipe with us!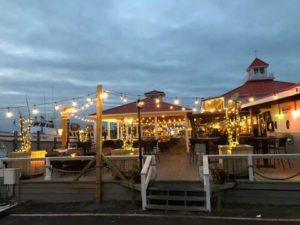 Visit delawarebeachlife.com for more regional recipes or to subscribe.
This recipe appeared in the Winter 2021 issue.