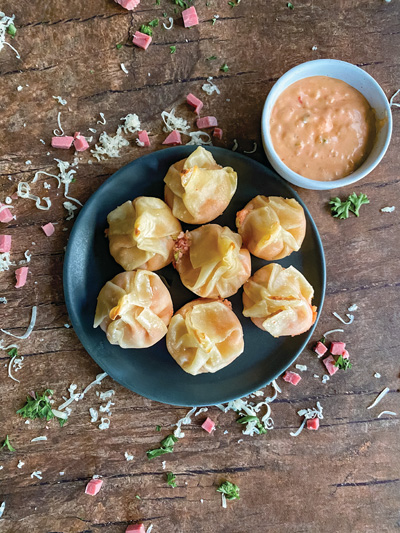 Reuben Wonton Purses from Nebraska Life!

Nebraska Life Magazine travels the state in six colorful issues a year.
We highlight fascinating people and communities and seek out the best of Nebraska travel, food, history, art and culture.
Begin the adventure today and explore Nebraska with us!
For more Nebraska Life Magazine inspired recipes click the logo to subscribe!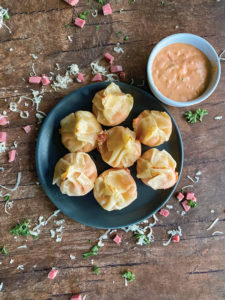 Reuben Wonton Purses
Recipe and photographs by Michaela Kenkel
Michaela was thinking of St. Patrick's Day when the recipe for these wonton purses came to mind.
"I thought of the luck of the Irish and the leprechauns with their gold coins," she said.
"These are finger food that can be made ahead of time, frozen and baked in batches as needed."
Ingredients:
24 wonton wrappers
1/4 cup cream cheese, softened
1/2 cup Swiss cheese, shredded
1/2 cup sauerkraut, drained and chopped fine
1/2 cup corned beef, chopped fine
2 Tbsp Thousand Island dressing
2  green onion tops, sliced
1/4  tsp caraway seeds, optional
Makes 2 dozen
Directions: Wet edges of wonton wrappers with water and press into mini muffin tins. In medium bowl, mix cream cheese, Swiss cheese, sauerkraut, corned beef, dressing and onions. Add caraway seeds, if desired. Using melon baller or cookie scoop, add one ball of filling to each wonton wrapper. With wet fingers pinch tops together and twist to seal. Spray tops with non-stick cooking spray. Bake for 15 minutes at 350° or until tops are golden brown.
Did you know that Nebraska is allegedly the origin place of the Reuben sandwich?
One origin story holds that Reuben Kulakofsky (his first name sometimes spelled Reubin; his last name sometimes shortened to Kay), a Jewish Lithuanian-born grocer residing in Omaha, Nebraska, asked for a sandwich made of corned beef and sauerkraut at his weekly poker game held in the Blackstone Hotel from around 1920 through 1935.
Visit nebraskalife.com for more regional recipes.