Saltscapes' Grilled Atlantic Salmon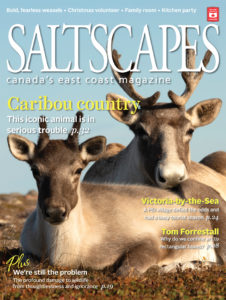 Saltscapes, a brand that celebrates the culture, values and rewards of living on Canada's East Coast.
For more Saltscapes inspired recipes click the logo to subscribe!
Grilled Atlantic Salmon Fillet with Blueberry Balsamic Compote
by Alain Bossé
Photography: Jackson Productions Inc
Serves 2 
Blueberry Balsamic Compote
2 tbsp (30 mL) butter
1 cup (250 mL) fresh highbush blueberries
¼ cup (50 mL) sugar
¼ cup (50 mL) balsamic vinegar
Salt and pepper to taste
In a small saucepan on medium-high heat melt butter, add blueberries, sugar and sauté for a few minutes, until blueberries are nice and shiny. Add balsamic vinegar, bring to a boil then reduce heat to simmer for 6 to 8 minutes. Adjust seasoning and set aside to rest until ready to serve.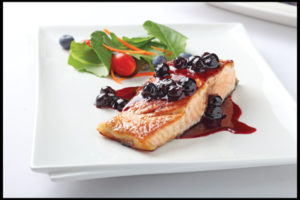 Grilled Salmon
2 8oz (250 g) salmon fillet
2 oz (57 g) olive oil
2 pinches sea salt
6 turns of ground pepper

In a cast iron pan set on high, add oil and heat until oil shimmers, then place salmon fillets in pan and sear on both sides for 2 minutes. Move to a pre-heated oven at 350°F (180°C) for 12 to 15 minutes. Bring out and rest for a few minutes, place on plate, drizzle with Blueberry Balsamic Compote and serve with your favourite sides.  
Visit saltscapes.com for more regional recipes.
This recipe appeared in the October/November 2018 issue.