Saltscapes' Ultimate Lobster Caesar
Saltscapes, a brand that celebrates the culture, values and rewards of living on Canada's East Coast.
For more Saltscapes inspired recipes click the logo to subscribe!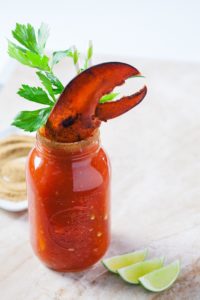 Ultimate Lobster Caesar
by Alain Bossé
Photography: Jackson Productions Inc
Makes 2 servings
1-2 dashes celery salt
2 lime wedges
4 oz (120 mL) vodka
4 dashes Worcestershire sauce
2 dashes hot sauce
2 tsp (10 mL) horseradish
salt and pepper, to taste 
2 ½ cups (625 mL) Clamato juice
2 large lobster claws cracked
2 leafy celery stalks
Sprinkle celery salt on a small plate. Take two large canning jars (large glasses will do as well) and run lime wedge around the rim; dip rim in celery salt and shake off any excess. Fill jars with ice and put 2 oz (60 mL) vodka in each. Add half the Worcestershire, hot sauce and horseradish to each. (Add as much flavouring as you like, but keep in mind, the more you add the spicier the Caesar!) Stir well and add Clamato juice (dividing total amount between the two drinks). Garnish each drink with a lobster claw, celery stalk and lime wedge.
Visit saltscapes.com for more regional recipes.
This recipe appeared in the June / July 2020 issue.