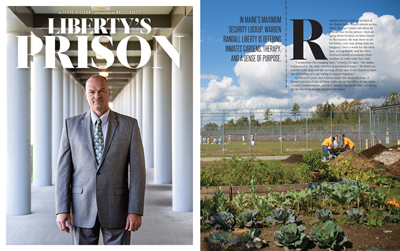 Profiles 35,000 or more Circulation
Gold

Down East, "Liberty's Prison" by Jesse Ellison
I liked this profile.
 Silver
Arizona Highways, "The Maverick" by Kelly Vaughn
The last sentence leaves me hanging—this is a very good read. Nicely designed.
 Silver

New Mexico Magazine, "The Godfather" by Carmella Padilla
A great introduction to an author who was new to me.
Bronze
Cottage Life, "American Woman" by Philip Preville
Wonderful photos and captions and a story well told.
Additional Entries
Adirondack Life, "Death of Jon Cody" by Christopher Shaw, Annie Stoltie, Lisa Bramen and Niki Kourofsky
Arizona Highways, "He Knows What He's Talking About" by Matt Jaffe, Barbara Glynn Denney, Keith Whitney Robert A. Stieve, Kelly Vaughn, and Noah Austin
British Columbia Magazine, "In Deep with Rudi Gertsch" by Leslie Anthony
Downhome, "King of the Kitchen" by Elizabeth Whitten, Tobias Romaniuk, and Vince Marsh
Downhome, "Onward Christian Soldier" by Ashley Miller and Vince Marsh
Louisiana Life, "Russell Whiting" by John Kemp
New Mexico Magazine, "The Great Unknown" by Stefan Wachs, Edie Dillman, and Dave Herndon
Saltscapes, "From Nova Scotia to Japan… and back" by Philip Moscovitch