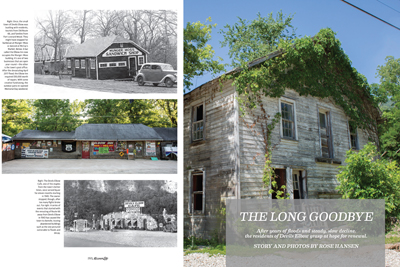 Art and Culture Feature
Gold

Missouri Life, "The Long Goodbye" by Rose Hansen
God is in the details, and Rose Hansen sits next to God with this eloquent and superbly written study of a dying town.
 Silver
Texas Highways, "Take 2" by Michael Corcoran
Loved this feature. It combines two of my fav subjects – movies and restoration. Nice details and just a strong well-designed and well-written package.
Bronze
New Mexico Magazine, "The Ride Stuff" by Kate Nelson
This was a wonderful piece! The author drew me in right away. A treat!
Award of Merit
Louisiana Life, "Culinary Heritage" by Jyl Benson
This feature made me hungry!
Additional Entries

Acadiana Profile, "Recording Gold Rush" by Suzanne Ferrara, Denny Culbert, Sarah George, and Melanie Warner Spencer
Adirondack Life, "The Jay Invitational of Clay" by Annie Stoltie, Lisa Bramen, and Niki Kourofsky
Arizona Highways, "With A 10-Foot Pole" by Kathy Montgomery, Barbara Glynn Denney, Keith Whitney Robert A. Stieve, Kelly Vaughn, and Noah Austin
Arkansas Life, "Brick by Brick" by Arshia Khan
Maine Boats, Homes & Harbors, "The Art of Leaving a Legacy" by Carl Little
Maine Boats, Homes & Harbors, "Moving to Maine" by Donna Gold
Mountain Home, "Cream of the Crop" by Ruth Tonachel
Oklahoma Today, "Eternal Graffiti" by Steven Walker and Nathan Gunter
Saltscapes, "Down to a Fine Art" by Sandra Phinney
Texas Highways, "The Granddaddy of 'Em All" by Kathryn Jones