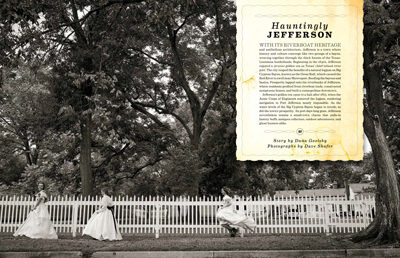 Photo Series 35,000 or more circulation
Gold

Texas Highways, "Hauntingly Jefferson" by Dave Shafer
A truly haunting series that maintains the ability to bring forth feelings of warmth and curiosity.
 Silver
Arizona Highways, "The Big Pictures: Monument Valley" by Derek Von Briesen, Tim Fitzharris, Jack Dykinga, Paul Gill, Suzanne Mathia, Larry Lindahl, David Muench, Kerrick James, Dean Hueber, Bruce D. Taubert, Guy Schmickle, Shane McDermott
Excellent and beautiful photos. Start off simple and lead you to expect the same kind of photos we've all see a million times, but then they get more and more dramatic, and unexpected.
 Silver
Louisiana Life, "On The Run" by Denny Culbert
For photographs of a celebration, there is an amazing stillness to these photos, like you're catching something that you shouldn't be seeing.
Bronze
Adirondack Life, "Painted Pony" by Ewan Burns
The exciting action shots paired with detailed spots creates context and a nice narrative without even reading the article.
Additional Entries
Arizona Highways, "The Big Pictures: Grand Canyon" by Tom Danielsen, Derek Von Briesen, Wes Timmerman, Jack Dykinga, Claire Curran
Cottage Life, "Take Me To Waskesiu" by Kamil Bialous
Louisiana Life, "Hoppy Trails" by Melanie Warner Spencer
New Mexico Magazine, "Hog Wild for County Fairs" by Sergio Salvador
Saltscapes, "Brook Trout Love" by Sean Landsman
Texas Highways, "Take 2" by Jeff Willson