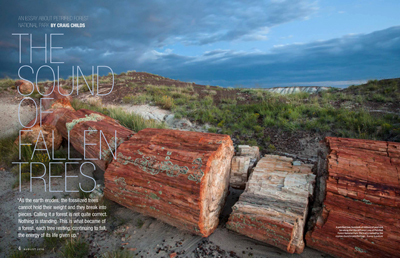 Essay
Gold

Arizona Highways, "The Sound of Fallen Trees" by Craig Childs
If field guides took mushrooms, they might read like this.
Silver

Avenue Calgary, "How to Talk About Death and Dying" by Christina Frangou
The writer packs a lot of information and good intention into this, and the piece is, if anything, even for more touching for the effort.
Bronze

Adirondack Life, "Valentino and Me" by Niki Kourofsky
An intriguing vignette, skillfully presented.
Award of Merit
Arkansas Life, "Learning Arkansas" by Jennifer Case
With her frogs, worms and robins, the writer skillfully equates a three-year-old's discovery of the world with her own discovery of a new and foreign world.
Additional Entries
Arizona Highways, "Wild" by Kelly Vaughn
Maine Boats, Homes & Harbors, "Outward Bound: Inward Salvation" by Jose Sosa
Maine Boats, Homes & Harbors, "Peapod Adventuring" by Ben Emory
Saltscapes, "Should we still be saying "come-from-away"?" by Jim Gourlay
Yukon, North of Ordinary, "Fishing Tale of the Big Brown Visitor" by Dawn Kostelnik and Eleanor Rosenberg