Art Direction of a Single Story 35,000 or less circulation 2022
Gold

Acadiana Profile, "Best of Dining" by Sarah George
Great art direction! Taking a straight forward dining feature
and giving a ton of varied content and levels of interaction.
Silver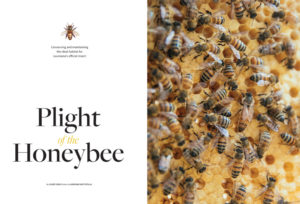 Louisiana Life, "Plight of the Honey Bee" by Sarah George
Beautifully designed and well executed package.
There's lots of content and the mix of photography and illustration make for a dynamic package.
Bronze
KANSAS! Magazine, "Haunted Atchison" by Shelly Bryant
Nailed the creepy vibes! Photo style and treatment align perfectly with the story.
Award of Merit
The Bermudian, "Denslow's Bermuda Fairy Tale" by Linda Weinraub
Illustrations are great! The layout and style of the layout work well with the story.