Art and Culture Feature 2022
Gold
Cottage Life, "I Have A Confession to Make…"
by Roberto José Andrade Franco
Eva Holland, Roy MacGregor, Vicky Mochama, Omar Mouallem, Mark Schatzker, Clive Thompson, and Zoe Whittall
Silver
New Mexico Magazine, "Makers' Place"
by Lynn Cline, Ungelbah Dávila-Shivers, Julian Dossett, Karen Fischer, and Kelly Koepke
A nice compendium that probably inspired some holiday shopping.
Tie for Silver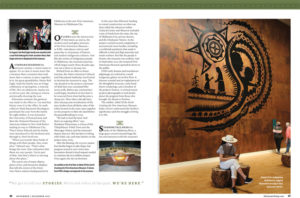 Silver
Oklahoma Today, "A Place for Us"
by Whitney Bryen
This story made me want to visit, which means it passed the ultimate test.
Bronze
Texas Highways, "The Ghosts of Archer City"
by Michael J. Mooney
Good overall treatment by the writer. I felt for the people of this small town.