Illustration 2021
Gold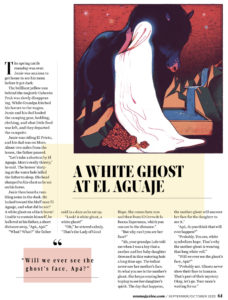 New Mexico Magazine, "Voices in the Dark." by Juan Bernabeu
These handsome illustrations capture a mystical storytelling quality,
transporting the reader to a place that feels both magical and grounded.
Silver
Arizona Highways, "The Exodus Trail" by Davide Bonazzi
Some illustrations show a story, some tell information, this makes you feel.
Strong storytelling here. I truly feel the trail through this artwork.
Bronze
Texas Highways, "The State Fair of Texas" by Mike Lowery
Charming with downhome appeal, the combination of illustration, casual handlettering, and limited color palette adds to the Texas feel of this story without indulging Lone Star State clichés.