Food Feature 2021
Gold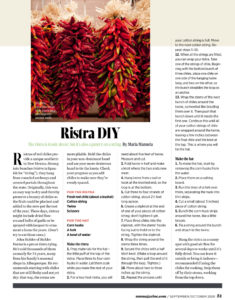 New Mexico Magazine, "Passion Fruit" by Kate Nelson, Maria Manuela, Andi Murphy,
Steve Gleydura, Elizabeth Miller, Diana Alba Soular, Douglas Merriam, and John McCauley
Wow – this feature has EVERYTHING!
The informative content and carefully curated photography pairs perfectly with this clean design approach.
Really enjoyed sitting with this piece and soaking up all the heat!
 Silver

Acadiana Profile, "Let's Taco Bout It"
by Eric Cormier, Jo Vidrine, Sarah George, and Melanie Spencer" by Greg Elwell, Lori Duckworth, Steven Walker, and Nathan Gunter
Use of pattern, breaking of the grid with large typographic elements, lively color,
and primarily brightly light photography take the reader on an energetic and tantalizing taco tour.
The reader is also guided through eateries to find the best tacos with insightful chef vision statements,
the historical origins of the hand-held street food, and appropriate accompaniments—all very useful and interesting.
 Bronze

Cottage Life, "One Tart to Rule them All" by Emma Waverman, Liam Mogan, Sandi Pilon, and Liann Bobechko
Really enjoyed this short feature. Much like its subject, it packs a lot into a small package.
Personally, I enjoy the history of iconic regional delicacies, and I thought this feature delivered.
All the info was there, balanced by an often facetious tone, which made it enjoyable to read.
I especially enjoyed the Where It All Began sidebar. Really well done!
Merit
Louisiana Life, "Daybreak" by Stanley Dry, Eugenia Uhl, Sarah George, and Melanie Spencer
Mouth-wateringly delightful! Loved the thought put into the design of this feature, with the subtle sunrise tinting in the photography, typography, and iconography. Such a smart, yet subtle way to reinforce the mood of this piece. Made me want to get in the kitchen stat!