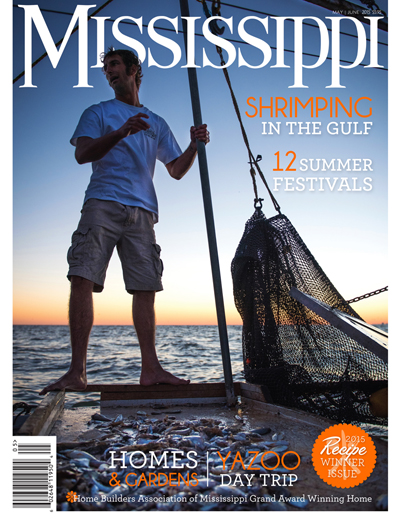 Cover 30,000 or more Circulation
Gold

Mississippi Magazine, "May/June 2015" by Bonnie Dickerson
Beautiful photography glorifies local watermen in style. Clean, uncluttered composition complements rather than competes for attention. Well done.
Silver

Texas Highways, "Lakes" by Mark Mahorsky, Joan Henderson, Brandon Jakobeit, Jill Lawless, Jane Wu, Lori Moffatt, Matt Joyce, Matt Wetzler, Dave Shafer, July 2015
Clean and modern layout and use of typography. Love the contrasting colour palette. Very nice job.
Bronze

Nebraska Life, "Grain Elevator May/June 2015" by Alan J. Bartels, Christopher Amundson, Angela Amundson, Tannon Asche
Love this, definitely one of my favorites of the group. Super clean, nice lines, framed well, amazing colours.
Award of Merit

Arizona Highways, "Salt River Canyon November 2015" by Barbara Glynn Denney, Robert Stieve, Jeff Kida
Rich and restful photography complemented by simple typography.
Award of Merit

British Columbia Magazine, "Fall 2015" by Arran Yates and Dale Miller
Evocative image complemented by judiciously placed coverlines and buttons.
Award of Merit

Cottage Life, "Early Summer 2015" by Kim Zagar and Penny Caldwell
Lively colours, fun photo – captures the spirit of summer.
Additional Entries
Adirondack Life, "July/August Cover" Kelly Hofschneider, July/August 2015
Arizona Highways, "Best of AZ" Barbara Glynn Denney, Robert Stieve, Jeff Kida, August 2015
Louisiana Life, "Statewide Feast: 5 Chefs, 5 Courses + Recipes" by Sarah George, July/August 2015
Louisiana Life, "Made in Louisiana: 4 Home-State Spirits + 8 Creative Cocktails" by Sarah George, May/June 2015
New Mexico, "June Cover" by Jen Judge and Edie Dillman
Saltscapes, "Spirit of the Season" by Shawn Dalton, November/December 2015
Saltscapes, "Harvest Bounty" by Shawn Dalton, September/October 2015
Texas Highways, "Hello Beach!" by Mark Mahorsky, Joan Henderson, Brandon Jakobeit, Jill Lawless, Jane Wu, Lori Moffatt, Matt Joyce, Matt Wetzler, Larry Ditto, June 2015