Travel Package 2022
Gold
Texas Highways, "10 Small Towns to Visit Now" by Clayton Maxwell, Roberto José Andrade Franco, Joe Nick Patoski, Dave Shafer, Tiffany Hofeldt, Tom McCarthy Jr., Christ Chavez, Melanie Grizzel, Mark Mahorsky, Ashley Burch, Chris Linnen, Emily Stone,
Michael Hoinski, Matt Joyce, Kimya Kavehkar, and Julia Jones
I loved the way this package came together – highlighting a little something for everyone in these tiny Texas towns. The design made read through easy, and photo selection helps the reader quickly suss out the highlights of each town without having to read every word.
Well done – fun, flavorful, and a celebration of often overlooked gems.
 Silver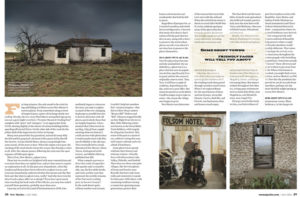 New Mexico Magazine, "Good Haunts" by John Mulhouse, Julian Dossett, Kelly Koepke, Kate Nelson, Jenny Parsons, Andrew Kornylak, and John McCauley
Amazing little vignettes that make you feel the passion all these people have for their seemingly forlorn places.
 Bronze

Louisiana Life, "Luxe LA" by Cheré Coen, Sara Essex Bradley, Haylei Smith, Sarah George, and Melanie Spencer
Who doesn't love to treat themselves? Great angle for those looking to up-level a pandemic-caused staycation.