Travel Package 2020
Gold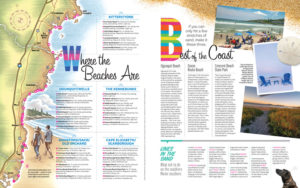 Down East, "The Big Wet Summertime Southern Maine Beach Guide" by Bridget M. Burns, Jennifer Hazard, Brian Kevin, Michael D. Wilson, Benjamin Williamson, Frederick Bloy, Seth Gaffar, Gabe Souza, Mark Fleming, Erwin Sherman, and Mike O'Leary
This is the kind of travel package that I would save and physically take with me on my vacation. It's colourful and practical.
 Silver

Texas Highways, "Big Bend" by Emily Stone, Matt Joyce, Kimya Kavehkar, Wes Ferguson, Mark Mahorsky, Ashley Burch, Christopher Linnen, and Brandon Jakobeit
It's an artful and engrossing example of what magazine travel features can aspire to.