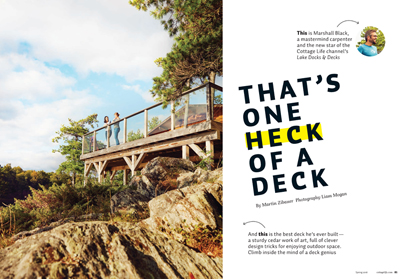 Reader Service Article 2019
Gold

Cottage Life, "One Heck of a Deck" by Martin Zibauer
Textbook service, but with extra style and entertainment value.
 Silver

Avenue, "Ready, Set, Summer" by Shelley Arnusch, Andrew Guilbert, Dylan Leeder, Käthe Lemon and Victoria Lessard
An exhaustive yet not exhausting survey. Impressive effort.
Bronze
Oklahoma Today, "Food Worth the Drive" by Greg Elwell, Nathan Gunter, Trisha Bunce, Karlie Ybarra, Sheilah Bright, Angela Botzer, Sara Cowan, Becky Carman, Rebecca Sterkel, Clara Linhoff, Bryan Byrne, Megan Rossman, and Silas Allen
Wow, that's a lot of dessert. Impressive!
Tie for Bronze
Bronze
Texas Highways, "93 Days of Summer" by Kimya Kavehkar
Very well crafted.
Award of Merit
Downhome, "Your May 2-4 Guide" by Vince Marsh, Janice Stuckless, Ashley Miller, Elizabeth Whitten, and Tobias Romaniuk
Well-done. Appreciated the barbecue tips!