Profiles 35,000 or less circulation 2019
Gold
Adirondack Life, "Double Exposure" by Jordan P. Hickey, Tim Hursley, and John David Pittman
12+ pages of awesome! A most worthy subject is given the attention, and attention to detail, he deserves.
 Silver
Oklahoma Today, "Rocket Woman" by Graham Lee Brewer
A fascinating story that feels very relevant. Solid writing and good storytelling throughout.
Bronze
Adirondack Life, "A Dairy Tale" by Shane Mitchell
This is a rollicking good read with a heartwarming vibe.
Bronze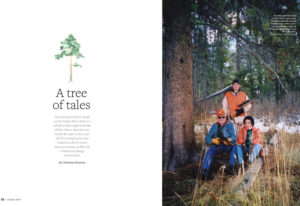 Wyoming Wildlife, "A tree of tales" by Christine Peterson
I love this piece! It's creative and unexpected. A fresh take on what a profile is and can be.
Award of Merit
The Bermudian, "Right time. Right place. Right attitude." by W. C. Stevenson
A great fit for the magazine. Readers would love it.