General Feature 35,000 or more circulation 2020
Gold
Arizona Highways, "The Unsettling Story of Ken Patrick" by Robert Stieve
A long-ago murder comes to life with good writing and design.
 Silver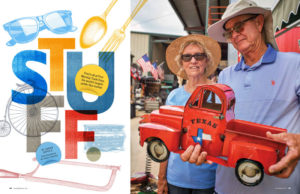 Texas Highways, "Stuff." by Sarah Hepola
The attention to detail and obvious affection for the flea market experience makes this story very well done.
Bronze
Cottage Life, "Ready, Set, Let go!" by Elamin Abdelmahmoud, Andrew Pyper, Clive Thompson, Heather O'Neill, and Lisa Moore
The combination of great writers, quirky subjects and expansive layout makes for a great story.