Food Feature 2020
Gold
Cottage Life, "Fantastic Feasts and Where to Find Them" by Ann Vanderhoof, Kamil Bialous, Kim Zagar, and Alysha Vandertogt
What an enjoyable and surprising journey informed by food and by a sense of place. Powerful imagery, palpable scenes, and a character who guides our understanding of both place and plate.
 Silver

Oklahoma Today, "Greg vs. Food" by Greg Elwell, Lori Duckworth, Steven Walker, and Nathan Gunter
It's a smart lens with which to illuminate the classic foods of Oklahoma — chicken fried steak, fry bread, etc. — through an ambitious competitive-eating competition.
 Bronze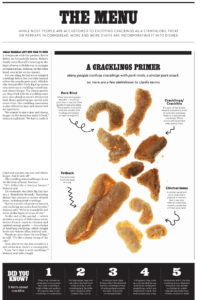 Acadiana Profile, "Cracklins" by Cheré Coen, Sara Essex Bradley, Sarah George, and Melanie Spencer
What a compelling deep dive on this iconic food! Great characters fuel the telling and great detail help illuminate this classic.
Merit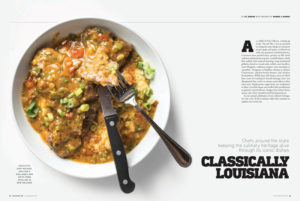 Louisiana Life, "Classically Louisiana" by Jyl Benson, Danley Romero, Sarah George, and Melanie Spencer
I really love this feature. It's beautiful to look at. I love the chefs' photography in black and white in contrast with the meals in color.