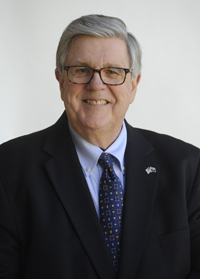 IRMA Magazine Member Win Holden, Honorary Member, Arizona Highways
Name: Win Holden
Magazine: Arizona Highways
Position: Publisher (retired)
Favorite magazines: Any regional magazine, especially an IRMA member publication. Also, Sports Illustrated, Esquire and Mac Life.
What do you love most about magazines? The insights you glean about a region or topic. Magazines offer compelling writing and exciting design and photography on every page, in every issue. Opening the mailbox and finding a new magazine issue is a monthly gift.
Who or what inspires you? The staff at Arizona Highways inspired me every day of the 18 years I served as Publisher. My number 2 inspiration is an amazing, dramatic Arizona sunset.
What is the most valuable lesson you have learned in the industry? I never learned anything from hearing myself talk.
What aspects of your job do you like best? Interacting with the highly resourceful and energetic creative team at Arizona Highways.
If you could choose anyone as a mentor, who would you choose? Abraham Lincoln
What are some fun facts about you that not many people know? I have a temper! I've been married to the same long-suffering woman for 50 years. I am fascinated by sea turtles.
Drink of choice (alcoholic or non): A nice, crisp Chardonnay.
What's the last book you read? The Splendid and the Vile by Erik Larson
What's the first concert you ever attended? Beach Boys in Chicago in 1964.
What did you want to be growing up? I wanted to be Mike Royko, the brilliant and irascible long-time columnist for the Chicago Sun-Times.
When not making amazing magazines, how do you like spending your time? Being anywhere and doing anything with my long-suffering wife of 50 years. If pressed, I'd say at our cabin in Northern Arizona or snorkeling off the big island of Hawaii.